Do you need pharmaceutical grade refrigerators that are reliable, easy to use, and will last? Are you tired of worrying about complicated temperature controls and whether your medications or vaccines are stored safely? Euro Chill has a range of refrigerators to suit every medical practice, clinic, and business. So, no matter how large or small your practice is, we can help you eliminate any worries you have about your storage solutions.
What are Pharmaceutical Grade Refrigerators?
Pharmaceutical grade refrigerators are designed to keep your medications, samples, vaccines, and pharmaceuticals at a safe and stable temperature. This means that the refrigerator you choose must fulfill the needs of your particular facility. For example, some medical clinics may need to store everything from vaccines to samples, whereas others may mostly use it to store ice. But whatever you need pharmaceutical grade refrigerators for, you need to know that the model you choose is reliable and will keep everything at a safe temperature no matter what. And there's where Euro Chill can help.
How to Choose your Pharmaceutical Grade Refrigerator
Making the right choice when it comes to buying or renting pharmaceutical grade refrigerators is incredibly important. These essential pieces of medical equipment keep perishables like medications, vaccines, and samples at a stable temperature so they're safe to use. It's also essential under Australian law that medical perishables be kept at safe temperatures for patient or client safety. So, if your refrigerator fails, it means a total loss of all your cold supplies, and this could equal a crippling expense for your business. So, when you're making this choice, here's what to consider: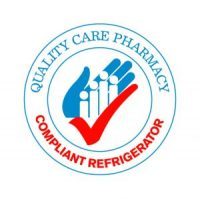 The size of your business and its storage needs will dictate the size of the fridge you need. Just remember that refrigerators tend to work best when they're at 30 to 80 percent capacity, so don't get a small fridge if you think it will be packed full all the time.
Smaller businesses with less stock will probably find that Euro Chill's Vacc-Safe® 400 PREMIUM vaccine fridge is large enough to suit all their needs, while larger businesses will need more space. When you're buying pharmaceutical grade refrigerators, it's also important that you buy a size that fits in the space you have available. There's no point buying a great fridge if it's too big to fit in the room!
The number and type of shelving are also important when you buy pharmaceutical grade refrigerators. Glass shelving is popular because it's easy to clean, but it can also impede air circulation and cause temperature problems. When you need a fridge for your pharmacy or medical business, consider plastic shelves with perforated holes or wire shelves. If you have especially sensitive materials, you should also think about getting built-in drawers as they protect the contents from temperature fluctuations. Euro Chill's Vacc-Safe®  Plus range comes with plastic coated shelves for optimum cooling. And depending on the model you get; you can add additional shelves if necessary.
No matter what medical goods you're storing, you need a fridge that will stay between 2 and 8 degrees no matter what. This is the optimum temperature for most vaccines and medical perishables. Euro Chill's Vacc-Safe®  Premium range use a pipe and fin cooling system which helps the temperature stay stable while cutting down on power costs. It also has improved shelving to allow for more storage space and a powder coated steel liner so the vaccines can touch the liner without a loss of cooling efficiency.
The Takeaway
If you're looking for a range of pharmaceutical grade refrigerators with superior temperature control and uniformity, then Euro Chill can help. Our range of fridges are tested by the Pharmacy Guild of NSW and are QCPP and Cold Chain Compliant. They include advanced monitoring and temperature control systems as well as the latest innovations in energy savings. So, if you need reliable, high performance medical refrigerators, you can rent or buy them today from Euro Chill.
Call Euro Chill at 1300 459 140 to discuss your Pharmaceutical Fridge requirements to get the unit that best suits your needs or click here to send us a message.