There are a lot of rules and regulations that you must follow when you're in the medical field and that includes how you store vaccines in a refrigerator. Vaccines are vital and sometimes delicate substances that need to be stored at precise temperatures to ensure their safety and their effectiveness. And to do that, you need medical grade refrigerators that you can rely on. If you're concerned about the storage of vaccines in the refrigerator, then Euro Chill has a range of high-performance products that will meet your needs.
About Vaccine Storage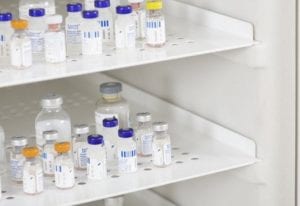 Anyone who needs to be concerned about the storage of vaccines in the refrigerator knows that vaccines are fragile. They must be kept at a precise temperature from the time when they're made until they're used. If they aren't kept between +2 and +8 degrees Celsius, then they can become less effective, useless, or even dangerous to use. This is called the 'cold chain', the cold temperature conditions that are necessary for some products during storage and distribution.
There are certain vaccines which must always be stored in a medical refrigerator. These include:
Hepatitis A.
Hepatitis B.
Hib.
All HPV vaccines.
influenza (all flu vaccines).
IPV (polio).
Meningococcal.
MMR.
Pneumococcal.
Rotavirus vaccines.
All vaccines containing DTaP.
Tdap.
So, if you have a medical or pharmaceutical practice that demands the storage of vaccines in the refrigerator, you need to buy a unit that works. Otherwise, you will find yourself throwing out vaccines regularly because they can't be used if they're exposed to higher temperatures. And if this occurs regularly it can be a big expense for you and your business.
Vaccine Refrigeration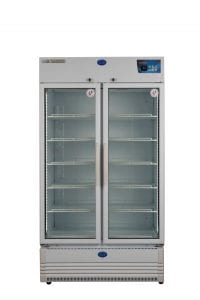 Different vaccines must be stored and treated differently to ensure that they remain fit for use. That's why normal and commercial grade fridges aren't enough. Refrigerators and freezers that are designed for vaccine storage come in a range of sizes, types and grades. Fridges that are built specifically for vaccine storage are often referred to as pharmaceutical grade and include special features that help keep biological agents at the optimum conditions.
Some of the features of these purpose-built fridges include:
Fan-forced circulation to ensure that the temperature inside the unit is uniform and for fast temperature recovery.
Microprocessor-based temperature control to ensure that vaccines are kept within the right temperatures.
Alarms which go off when the temperature goes above the optimum range.
A digital temperature sensor for precision.
Enough shelves or storage space to suit the needs and demands of your business.
Lockable or password protected doors to keep the vaccines safe.
Euro Chill's Range of Vaccine Fridges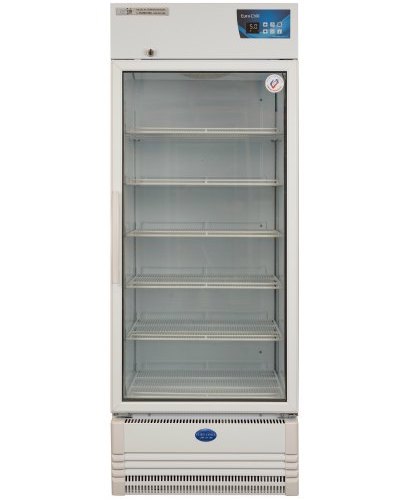 Euro Chill has a wide range of pharmaceutical grade vaccine fridges available for you to rent or buy that will solve all your problems when it comes to the storage of vaccines in the refrigerator. Whether you need a fridge for a hospital, dental practice, pharmacy, GP practice, Medical Clinic, or Botox Clinic, here are Euro Chill's best options for your business:
The Vacc-Safe® Vaccine Fridge
A quality vaccine fridge on a budget. The Vacc-Safe® is QCPP Compliant and is made in Denmark but converted locally to meet all cold chain requirements. It has a basic LAE digital controller and a USB Log Tag that can be plugged directly into a USB port for easy data transfers.
The Vacc-Safe® Plus is another budget option that's QCPP Compliant and comes with a 2 year warranty. This model has an upgraded controller and comes standard with a USB Log Tag so there's no need for a clunky base station.
The Vacc-Safe® Premium vaccine fridge offers the best warranty, terms, and cooling systems on the market. It's QCPP and Cold Chain compliant and uses a unique pipe and fin cooling system that allows for better temperature control and lower power costs. It includes a large "touch screen ", easy to use digital controller and has a power coated steel liner for greater durability. This fridge comes with an optional Cloud-based Wireless Log Tag system. This means that you can perform temperature tests using an app on your phone and receive an email alert or "push notifications" in case of power failure or temperature alerts.
Designed for Hospital use this vaccine fridge is fully stainless steel and has castors for ease of movement. It also includes the world renowned Xpro Control panel which allows for the easiest and most intuitive control. It comes in a range of sizes to suit all practices.
So, rest comfortably in the knowledge that your vaccines are safe when you store them in one of Euro Chill's custom designed vaccine fridges. Taking this step will keep your patients safe and save your business money in the long run.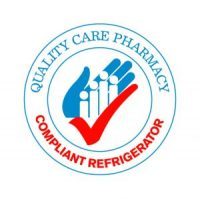 The Takeaway
Don't compromise when it comes to the storage of vaccines in the refrigerator. Cutting corners on this essential could lead to poor health outcomes for your patients and a lot of extra expenses for your business. Euro Chill has a range of pharmaceutical grade fridges that are QCPP and Cold Chain Compliant and Independently tested by the Pharmacy Guild of NSW for storage compliance safety. They also have competitive finance option whether you choose to rent or buy your new vaccine fridge.
So, the next time you need storage of a vaccine in a refrigerator, contact Euro Chill and they will be able to supply a quality vaccine fridge at an affordable price.